This week it has been exactly 6 years ago that we launched colorFabb_XT at the 2014 edition of the 3D Print Show in London (remember those days?). With all the new materials, growth of colorFabb (& 3D printing in general) and our relentless goal to keep innovating it is sometimes easy to forget how special this moment was for colorFabb. Not only was this the first time a large chemical company (Eastman Chemical Company from Kingsport, TN) publicly partnered with a filament producer – something which is the norm today – but it also meant shifting our focus to functional materials.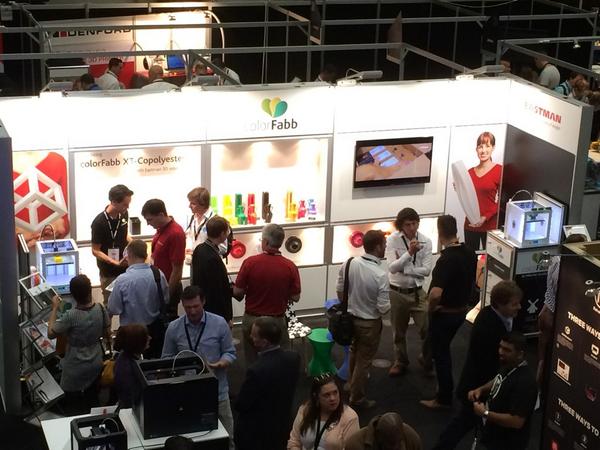 Our launch event booth at the London 3D Print Show 2014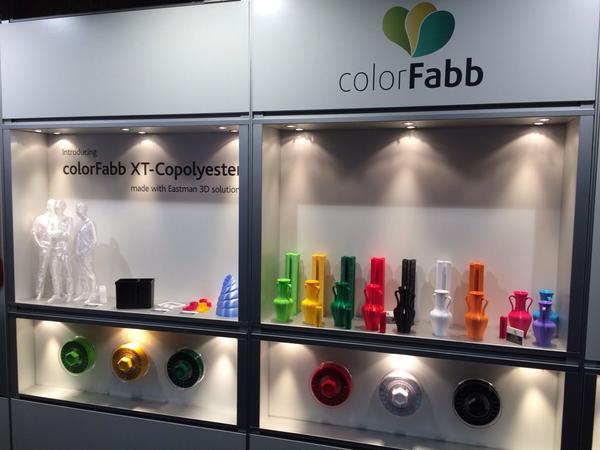 Eastman's Amphora 3D polymers are low-odor and styrene free materials specifically developed for 3D printing. With Amphora based filaments, items can be created that are more functional, more durable, more efficient, and attractive.
"Is Amphora a good material to 3D print? Absolutely – just make sure you have a heated build surface before you order some."- Fabbaloo's initial review
Platform Jack printed with colorFabb_XT by Intentional3D
colorFabb teamed up with Eastman Chemical Company to create colorFabb_XT, made with Eastman Amphora AM1800 3D Polymer. colorFabb_XT's unique formulation features excellent properties: high strength, very high toughness, odor neutral processing and improved temperatures resistance. With its styrene free formulation, FDA food contact compliance and BPA (Bisphenol A ) free formulation colorFabb_XT allows the user to produce 3D printed functional products in a safe way.
After launching colorFabb_XT we launched several other copolyester filaments: nGen, colorFabb_HT, nGen_FLEX, PETG Economy and nGen_LUX. To read more about what the differences are and what the best applications for each material are, check out our blog What We Talk About When We Talk About Co-Polyesters.
Toyota engine made with colorFabb_XT by Korneel Bullens
With colorFabb_XT we have seen quite some amazing applications: from garden sprinklers to prosthetics (more below). As a functional material goes, it is one of the workhorses of the filament world. It does not end with the print itself. We have received numerous requests about post-processing. Together with Eastman we made a handy secondary operations guide for those who feel their finished print needs more work.
Although we have phased out some colors of the colorFabb_XT product line – with a few still on sale at the time of writing – we still ship the most popular ones daily, worldwide and from stock. Head to our webshop for your daily dose of XT!
Previous colorFabb_XT posts
Below are a few of the prints we made with colorFabb_XT over the past years.